Description
The Tata Ace Truck, also known as the Chota Hathi, is Country's most popular commercial vehicle, truck, or mini-truck for transporting packages to consumers' homes. This classic Tata truck is now available in Ace Gold Avatar in petrol, CNG, and diesel models. The price of this popular pickup/mini-truck/small vehicle has Much affordable. To become a major carrier, you can bring this truck home with the minimal down payment and lowest EMI. The Tata Ace is the most dependable, trustworthy, and efficient truck in the class, so ditch your three-wheeler and make it big with Ace . TataAce now comes in diesel, petrol, CNG, and EV.
Tata Ace Gold Engine Capacity
The 2-cylinder, 700 CC naturally aspirated directed injection engine in the Ace Gold diesel powertrain provides 20 horsepower and 45 Nm of torque. The petrol engine is a Tata Motors in-house 275 gasoline, MPFI 4 stroke, water-cooled engine that produces 30 horsepower and 55 Nm of torque for better pickup and power. The CNG Ace, on the other hand, comes with a water-cooled, multi-point gas injection 694 cc CNG engine that produces 25 horsepower and 50 Nm of torque.
Tata Ace GoldPrice in India
Ace Gold has become India's most affordable four-wheeler transport vehicle. The price of this renowned truck ranges from 3.99 to 5.63 lakh ex-showroom, with a minimum down payment of just 46,000 and an EMI as low as 8000, implying a monthly profit of up to 27,000 rupees. We can assist you with all of your truck purchasing needs at Kamal Motors; simply provide your telephone number on the website and we will locate the nearest Kamal Motors Tata Trucks Showroom/ Dealership in your city or town. You can also find the truck's on-road price. We can assist you with anything from competitive financing to EMI and downpayment alternatives, as well as insurance.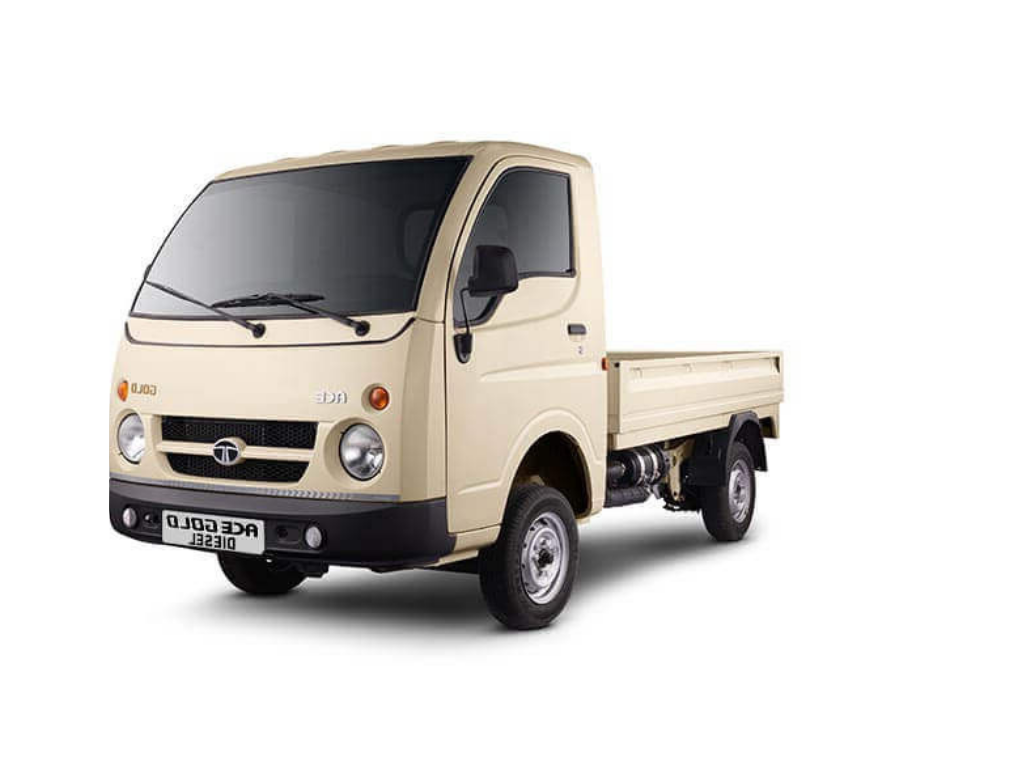 Other features Tata Ace Gold
Ace Gold is fitted with the parabolic leaf spring suspension in the front and semi-elliptical leaf spring in the rear.The 145 R12 LT 8PR radial tyre ensures the truck takes on all terrain quite easily, and the tyre also offers greater mileage and pickup, even when it is carrying a full load of cargo.
Performance
Design & Build
Brakes & Suspension
Tyres
Loading Capicity
Features
Others
Performance
| | |
| --- | --- |
| Max Power | 19 hp |
| Displacement (cc) | 700 cc |
| Fuel Tank (Litres) | 30 Ltr |
| Engine | DI engine |
| Fuel Type | Diesel |
| Emission Norms | BS-VI |
| Max Torque | 45 Nm |
| Acceleration | – |
| Mileage City | – |
| Mileage Highway | – |
| Top Speed | – |
| Mileage | 22-23 kmpl |
| Gradeability (%) | 27.5 % |
| Max Speed (km/h) | 60 |
| Engine Cylinders | 2 |
| Turning Radius (mm) | 4300 |
Design & Build
Brakes & Suspension
Tyres
Loading Capicity
Features
Others
Find Nearby Kamal Motors Showroom