Description
Tata Motors' LPT platform trucks are known for their efficient performance across key tonnage categories. The 1412 LPT is a 14-ton gross weight truck that is apt for today's medium to longer cargo trips thanks to its large cargo deck, fuel-efficient engine, and overall superior performance elements.
Tata 1412 LPT Engine Capacity
Tata Motors in collaboration with 1412 LPT has created a powerful 3.3 L, 4-cylinder, 3300 cc BS6 engine in the form of an internal combustion vehicle. It is a line water-cooled direct-injection diesel engine with intercooler. It produces 123 hp of power at 390 Nm of torque and is tuned to a Tata Motors 7-speed GBS 40 gearbox.
Tata 1412 LTP Price in India
The ₹ 15.60 Lakh – ₹ 17.62 Lakh 1412 LTP estimated price is not the final price. At Kamal Motors we help you with all your truck buying needs, just leave your mobile number on the website and we assist you in finding the nearest Tata Trucks Showroom/ Dealership in your city or town. You can also get the on-road price of the truck.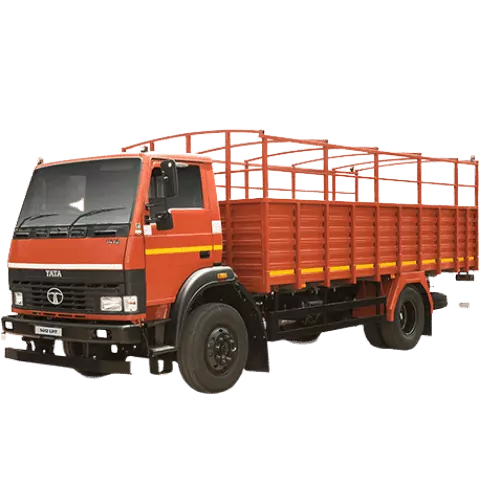 TATA 1412 LPT Other Features :
1412 LPT is equipped with the famous Tata LPT cabin, which boasts enhanced safety and an all-steel cabin that makes for a fatigue-free driving experience while on long trips. The cabin holds the driver and one passenger comfortably, with the driver seat providing XZ direction adjustment that improves comfort and ease of driving.
Performance
Design & Build
Brakes & Suspension
Tyres
Loading Capicity
Features
Others
Performance
| | |
| --- | --- |
| Max Power | 123 hp |
| Displacement (cc) | 3300 cc |
| Fuel Tank (Litres) | 160 Ltr |
| Engine | 3.3L NG In line water cooled direct Injection diesel |
| Fuel Type | Diesel |
| Emission Norms | BS-VI |
| Max Torque | 390 Nm |
| Acceleration | – |
| Mileage City | – |
| Mileage Highway | – |
| Top Speed | – |
| Mileage | – kmpl |
| Gradeability (%) | 25 % |
| Max Speed (km/h) | 80 |
| Engine Cylinders | 4 |
| Turning Radius (mm) | 9600 |
Design & Build
Brakes & Suspension
Tyres
Loading Capicity
Features
Others
Download Tata 1412 LPTUltra Brochure
Find Nearby Kamal Motors Showroom